More Moth mania from contributing blogger guest, Chris Museler. If you missed last week's post – check it out here.
"Ah, the smell of epoxy in the morning, smells like…victory." This was one of the many punchy comments on Nat Shaver's recent FB posts of a modification to his International Moth.
Last week's US Moth training camp in North Carolina, supported by 11th Hour Racing with supplies from Jamestown Distributors and TotalBoat is now in the books. The work lists are smaller and there was a lot tested, performance measured and modified on the boats. The fleet is now packed in a container enroute to the Amlin International Moth Regatta in Bermuda.
The finishing touches on boat work are still in progress, though. Today, Patrick Wilson was putting the final paint on his foils in his Charleston garage, ending four months of intense grinding, sanding and gluing. (Details on all projects, products used and outcomes listed below)
"I'm not going to do anything to my boat that's not going to make me faster," he said on the last day of the training session in Minnesott Beach. And as he would fly up to leeward of the group to signal the start of a lineup, all would trim in. Just one click off the breeze than the rest, it was just a matter of a minute or so before this barefooted blonde guy took off, ending up boat lengths ahead. His approach is working and it started four months ago.
When the US fleet held its Nationals in Hood River, Oregon last summer, Anthony Kotoun walked away with the title sporting a canting rig that stood more upright while sailing upwind, and also used an adjustable rake system to lean the rig forward downwind. That kicked off a massive carbon cutting and vacuum bagging session in the following months to glue in new bow tubes to make adjustable forestays. Shaver designed and 3-D printed a forestay fitting with a pulley and by last week, everyone was going as far forward as they dared off the wind with their mast before the boats became super squirrely and crashed.
Throughout the season, the sailors in this fleet ordered supplies online from www.JamestownDistributors.com because it was fast and efficient. With the warehouse in Bristol, Rhode Island, the product could be shipped anywhere. The supplies donated to the fleet last week were consolidated for all and sent to Minnesott for use there and in Bermuda.
All the quick fixes and repairs in North Carolina were perfect opportunities to use the TotalBoat Thixo, both the Low Viscocity (during the warmer daytime) and the FastCure (at night when temps dipped into the 40 degrees range). With its mixing tip, this quick, ready-made thickened epoxy dispensed with a caulking gun was perfect for Shaver's boom end that split into pieces at the outhaul. Two thin carbon plates clamped on either side of the end were perfect anchors for a new outhaul system, ready in the morning.
Quick and dirty Thixo repair.
A small batch of TotalBoat 5:1 Epoxy Kit resin and hardener combined with some carbon tape and a G-10 fiberglass dowel fixed a snapped tiller extension overnight as well.
This week, Wilson was doing something that will definitely make him faster: re-doing his main horizontal foil hinge. The magic of the Moth is directly associated with the main horizontal foil flap. This is attached to a push rod (held within the vertical foil) that is controlled by a linkage that terminates at a carbon wand off the bow. As the boat goes lower in the water, the wand presses back and the flap is pushed down, adding more lift, and visa versa.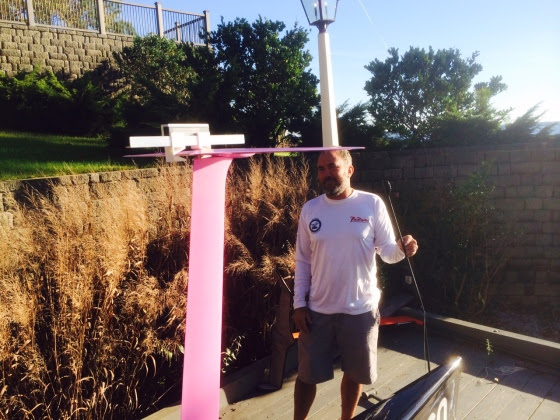 Anthony Kotoun uses a digital protractor to measure Front Vertical Foil flap angle change as he moves the wand. Minnesott Beach, NC.
For elite sailors like Wilson, making that flap's "hinge" as smooth as possible on the top and leaving a super polished finish on the entire foil means that he will blow through the 30-knot barrier downwind and hang with the best in Bermuda. The major part of this equation is the flexible joint on the top of the foil. A bead of Sikaflex is laid and sanded smooth, then the foil is sanded, primed and painted and sanded again. For the best guys, this last bit is pure art. We all can do it, but top results come with experience. Too smooth in cold water, the foils will cavitate. Too coarse, and you're slow.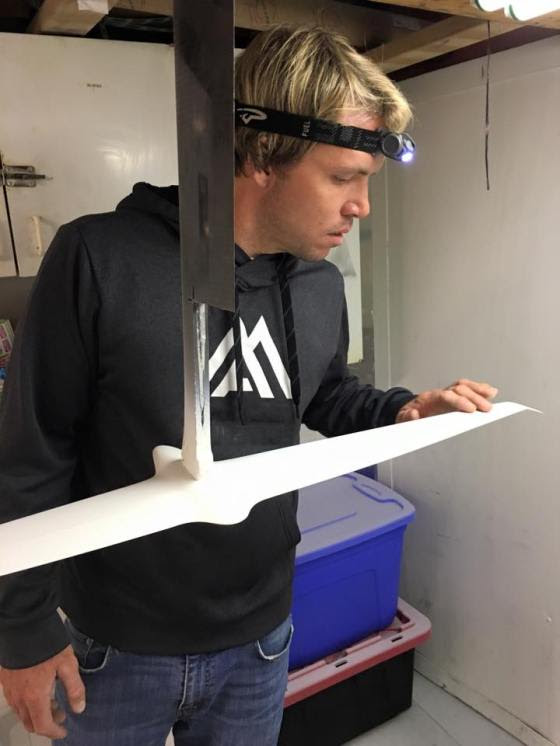 Patrick Wilson checking the finish on the freshly faired and painted front horizontal foil.11/23/15
Here's Wilson's product list this week:
Sikaflex, Sika Primer, Awlgrip 545 Primer, Awlgrip Topcoat, sandpaper (3M Stickit roll of 120, 220, 320; wetland paper 600, 800, 1000, 1200)
Anthony Kotoun spent all his free time wet sanding his foils in North Carolina, even taking an interview with a local journalist at www.TownDock.net wile he worked his little sanding block at opposing 45-degree angles with the trailing edge of his flap against the table to avoid over-sanding that edge.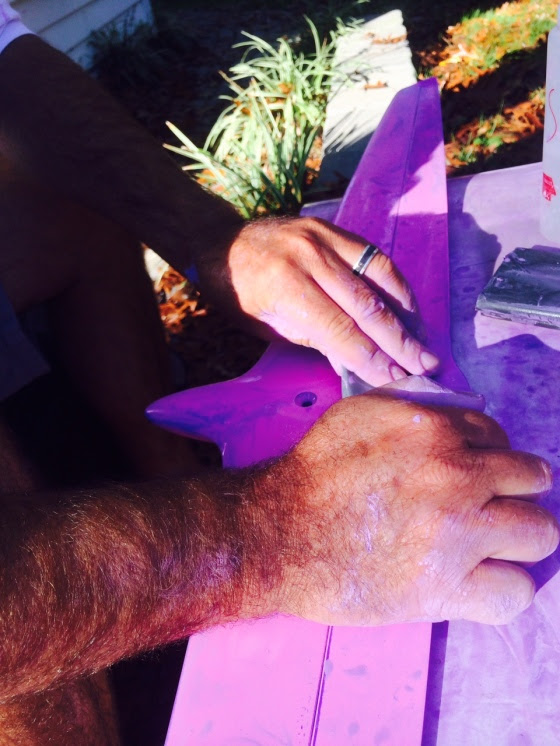 Anthony Kotoun putting the time in, wet sanding his foil at 45 degree angles.
Shaver was a designer with Emirates Team New Zealand in the last America's Cup and is now working with France's Groupama Cup team. Check out his project list below to get a feel for the DIY projects the US fleet completed up until the Bermuda container arrived last Monday:
"For all the carbon work I used a vacuum pump, vac bag, breather and peel ply bought at JD along with sandpaper. For most of the bonding I used SpaBond from JD but have started using Thixo." – Nat Shaver, US Moth Sailor
Project List: Designed and 3-D printed ball-socket Rudder Rake adjuster; Bent Boom 18 degrees (carbon, epoxy); constructed Boom Spreader (carbon, epoxy, foam); Installed Centerline Utility Tube for forestay purchase (carbon, epoxy, SpaBond); Designed and built New, Longer Rudder (carbon, epoxy, foam, plywood); Faired and painted all foils; Designed and installed 3-D printed Forestay Mount; Rigged boat with Adjustable Rig Rake, cant and control lines moved to outer wing bars.
Double vacuum bagging carbon bow tubes for adjustable forestays.
The Bermuda Moth regatta we are all gunning for starts December 6th. Wilson and several other American's will be buffing out their foils until then and hand delivering them to that awesome island in the Atlantic. Last week's Moth Camp was fantastic and the sailors were leapfrogging each other's performance each day. Every adjustment, modification, seemed to work. The proof is in the pudding and even in Bermuda there will be a work list. But everyone is prepared, jacked up and ready to test their systems and their abilities against all those professionals they will be sitting next to on their flights in next week. I will be reporting on how it all shakes out so stay tuned and follow the US Flagged Moth sailors right here on TotalBoat Show!